Upcoming
Appearances
...Contact me if you want to book me to lecture at your school, business, housing association, or club!
---
In the News/Events
April 8th - 2014 'Better Living with an EV' Podcast on KVSF 101.5 -
I was interviewed on the Tuesday morning show 'Doing Business Better' by Glenn Schiffbauer. We talked about the benefits of EVs, both environmentally and financially... and then got into the additional benefits of powering an EV with your own PV system rather than utility power. I am now selling PV systems for Consolidated Solar Technology (CST), and would love to talk to individuals or groups about EV conversion, or individual/business owned PV installations to power them!
Oct. 8th - 2013 Podcast on KVSF 101.5 -
I was interviewed on the Tuesday morning show 'Doing Business Better' by Glenn Schiffbauer. It was a real blast, and getting the word out that I'm open for business.
April 26, 27, 28 - 2013 SolarFiesta at SFCC -
I'll have Zappy the electric Swift out at SFCC for all the festivities friday thru sunday, AND will be bringing the electric Miata Saturday afternoon for show and tell while I give a little presentation on how to create an LLC for third-party funding of PV for non-profits. If you are interested in rental/Lease/purchase of a DIY EV, this would be a great time to see what I have available and get on list for test drives, etc.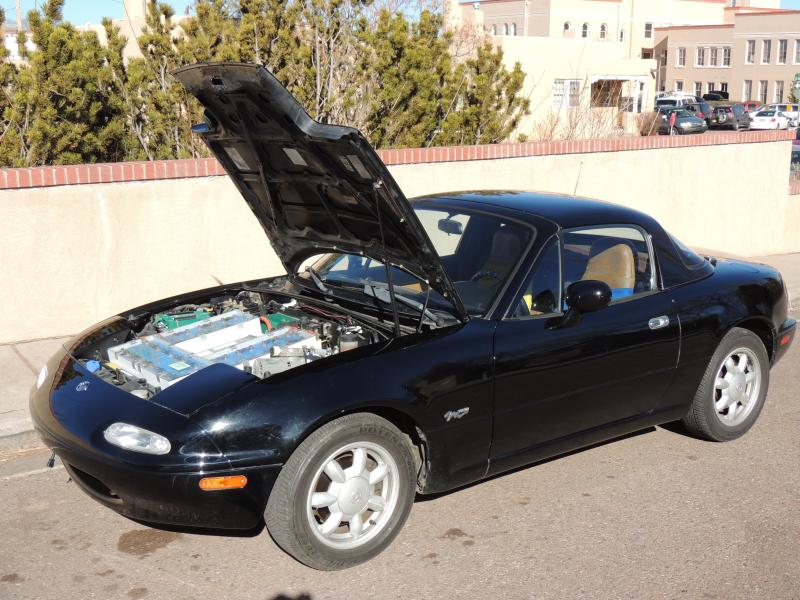 This site will be the new home for my 'green' consulting and conversion services in Santa Fe, New Mexico. I am taking my passion for Solar Energy and Electric Cars and spinning up a business to help more people do what needs to be done... Use solar energy, produce clean electricity, and shift local daily transportation to all-electric vehicles. The goal is to line up local investors, local services, and focus on local solutions... One household at a time.
---
Are you considering an All-Electric Vehicle (EV) conversion as a daily driver around town? Conversion of a gasoline vehicle can be a great way to give a favorite vehicle a second life, be green, and do it for far less than buying a new car as well as eliminate time and money at the gas station! Some general FAQs are:

practical daily range between 40 to 100 miles depending of the vehicle and battery pack capacity (small/medium/large) you choose.
designed to be recharged overnight from any regular 110v outlet, or can charge faster from 220v outlets.
capable of highway speed, and retain all original safety equipment such as airbags, etc.
The only maintenance required is to check connections and balance the batteries twice a year, and change the motor brushes about every 30,000 miles, which typically cost less than $100.
The LiFePO4 (Lithium Iron Phosphate) chemistry of the batteries is far lighter, safer, and lasts longer than old lead-acid batteries. The converted vehicles typically weigh about the same as the original, will not spill, non-toxic, and rated to last up to 10 years (3000 charge cycles or more giving 75,000 to 100,000 miles or more!) before replacement.
electrical drive system includes multiple safety features including fuses, circuit breakers, manual emergency disconnect, and an inertia switch to disconnect the battery pack in case of accident.
Conversion cost varies a little depending on level of performance desired with different size motors and controllers, but is mostly dependant on the size battery pack needed for your desired daily range. Total cost of conversion will include Parts plus batteries between $11k-$20k, plus about 150 hours of Labor, and the cost of the 'donor' vehicle. The result is a 'refurbished' all-electric vehicle ready to go another 100k miles, with an operating cost on electricity far less than gasoline in addition to the environmental benefits.

---

Suzuki Swift - 'Grocery Getter' - or offer a Lease option for as little as $150/month to a qualified buyer.

Seats 4, plus room for groceries! This vehicle was built with economy in mind using a 1997 'donor' vehicle. Enough performance to keep up with traffic (about the same peak HP as stock, and a little better acceleration from a stop), enough range to get around Santa Fe, highway speed capable, with the lowest cost possible. Plugs in anywhere to regular wall outlets.
Specs: ADC 8" motor, Curtis 1221 (300amp) controller, 120vDC x 100ah LiFePO4 batteries gives 50 mile max daily range (40 mile daily use max recommended), overnight recharge using regular 110vAC wall outlet with on-board 1500 watt charger.

Mazda Miata (Mx-5) - 'Performance/Sport' - or offer a Lease option for as little as $250/month to a qualified buyer.

REALLY fun to drive! This vehicle was built with performance in mind while still being affordable using a 1994 'donor' vehicle. The motor produces 150kW (about 200 HP) max and about 250 ft-# of torque off the line, which is about double the stock Miata, so it is a very sporty vehicle that handles like a dream. Does not currently have a heater, so its intended for sunny days, and to be garaged in bad weather! Plugs in anywhere to regular wall outlets.
Specs: Netgain Warp9" motor, Zilla 1000amp controller, 156vDC x 130ah LiFePO4 batteries gives 75 mile max daily range or about 60 miles under normal conditions, overnight recharge using regular 110vAC wall outlet with on-board 1500 watt charger.

---

If you'd like to look thru a 'documentary' site with my personal experiences in having Photovoltaics installed on my home and the entire process of how these vehicles were converted from gasoline to electric, please visit EnviroKarma.org.
Interested? I can:
Rent/Lease/Sell you one of the conversions I have available. Rentals will be on a weekly basis as available, providing you a chance to 'try it out' and make sure an Electric Vehicle is right for your needs. If you are thrilled, you can consider a long-term lease on a vehicle I have available, or we can discuss building one to suit your needs and desires.
Assist with the selection and purchase of an appropriate 'donor vehicle', do the complete conversion for you or assist you in doing it, we can also discuss financing the donor vehicle and conversion cost and Lease back to you for reasonable monthly payments.
Consulting on a hourly basis for design, selection, and obtaining components from reputable vendors as well as fabrication if you want to 'Do It Youself' (DIY).
Offering rental/instruction/service using specialty tools you may not want to buy or know how to use yourself: engine hoist, plastic welder, steel/aluminum welder, custom cable crimpers, special power supply for initial balancing of battery cells.
Finance and Lease back major components like motor, controller, charger, batteries if you need help financing your project.
---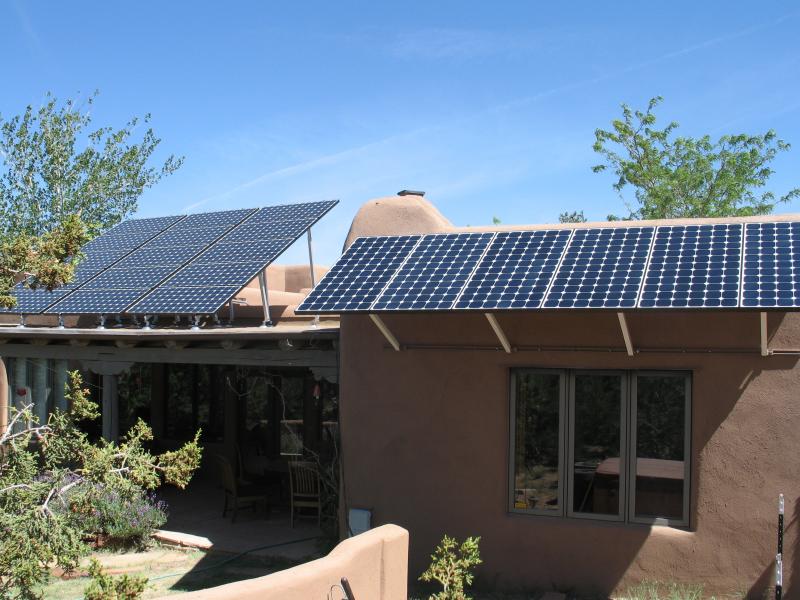 If your non-profit group is considering installation of PhotoVoltaics (PV), let me help! I have developed all the tools and paperwork to put together a special purpose LLC that can take pass Federal tax credits back to investing members and Lease back the PV equipment to your group on 'friendly terms' that are a win-win for your group and the local investors. This is a perfect solution for Churches, Schools, or other non-profits that may have some Members with a 'tax appetite' and some cash to invest for a safe moderate return benefitting both themselves and the group. By forming your own local Financing you can obtain a fair rate, keep your money local, support local installers, and benefit Members of your organization by providing a safe alternative local investment opportunity.
Funding for installation of PhotoVoltaics (PV) on your home, is not something I can help with at this time... You should check to see if you qualify for the Homewise Loan program, 'green' banks like the Permaculture Credit Union, and/or support our Legislators in pushing the Federal Housing Authority to force Freddie Mac and Fannie Mae to accept Mortgages that participate in the PACE Loan programs that are ready to go around the Country.
---
I hope you find useful information and some degree of inspiration to continue your own effort to 'be green'. - Dan Baker